Supporting Family Caregivers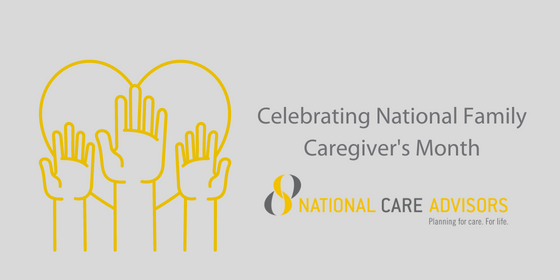 Every year at least 53 million people provide informal care and support to aging family members and people of all ages with disabilities.[1] Caregivers make great sacrifices to ensure their family members and loved ones can maintain their desired quality of life and can stay in their preferred homes and communities. Each November, National Family Caregivers Month (NFCM) provides an opportunity to recognize this sacrifice and the contributions of family caregivers across the country.
In his proclamation this year, President Joe Biden had the following to say:
"…These acts of love, commitment, and compassion enable their family members to receive the support they need to live a life with dignity. This has been especially true throughout the COVID-19 pandemic, during which Americans of all ages have made substantial sacrifices to keep family members safe and healthy."
Providing care for a family member can be incredibly rewarding, however challenging. While focusing on the individual needing care, it is not uncommon for the caregiver to neglect themselves. Throughout this blog, we'll explore several ways for caregivers to take care of themselves, making sure they are healthy and enabled to provide care for others. Primarily, we'll focus on respite care, identifying support systems and creating/managing care plans for the individual needing care.
Engage in Respite Care
The act of taking consistent breaks from caregiving responsibilities, formally known as respite, is crucial to the mental, physical and emotional well-being of a caregiver. Even just a few hours a week can provide big improvements.[2] The key here is consistency. Waiting until you are burned out or unwell is past the point of what respite care provides.
Respite can take form in many ways and can be provided by friends and family, paid services, or non-profit agencies. Identifying friends and family to provide respite care can seem overwhelming. Caregivers often don't want to burden other family members or friends and/or don't want to seem like they can't manage their responsibilities. Consider identifying specific tasks or dates/times when help is needed. Is there a regular social gathering that you'd like to attend such as book club, religious service, etc.?
Respite care can also sometimes even be prescribed by your healthcare provider. By discussing your caretaking responsibilities with them, you not only are looking out for your well-being, but in some states, Medicare's PACE Program allows for prescribed respite care.
Identify Support Systems
With millions of Americans engaging in-home caregiving, many support systems provide emotional and mental well-being and support. Many national associations that support specific diseases, provide support for caregivers in addition to those diagnosed. Below are just a few examples of associations that provide caregiver resources:
Local organizations such as Area on Aging, community centers and religious organizations have resources as well. Engage in your community to see what might be available to you. If you live in a remote area or are unsure of where to start, there are online support groups such as the one provided by the Family Caregiver Alliance's Caregiver Online Support Group. This unmoderated group provides a safe place to discuss the stresses, challenges, and rewards of providing care.
Create and Manage a Care Plan for the Person Receiving Care
Creating a detailed care plan provides a comprehensive and centralized document for the individual receiving care. This not only assists the primary caregiver in staying organized but can be helpful for those providing care during respite or in case of transition, planned or not.
The plan should summarize the individual's health. What are their current conditions? What specific care, treatments and medication are they receiving? Other items to consider adding include a list of the individual's healthcare providers, insurance information and emergency contacts. Consider including additional social and emotional well-being information. Does the individual have a regular schedule or routine? Including these items can lessen the stress on the individual needing care in an emergency or transition.
Taking care of a loved one and not sure where to start? Contact us at National Care Advisors. Our team of Nurse Consultants can work to understand the desired quality of life for both the individual needing care and the caregiver and then create a plan to move toward those goals. Contact us today.
[1] Administration of Community Living (https://acl.gov/CaregiverStrategy)
[2] Zarit, S.H., Whetzel, C.A., Kim, K., Femia, E.E., Almedia, D.M., Rovine, M.J., Klein, L.C. (2014). Daily Stressors on Adult Day Service Use by Family Caregivers: Effects on Depressive Symptoms, Positive Mood and Dehydroepiandrosterone-Sulfate American Journal of Geriatric Psychiatry, 22 (12), 1592-602.