NCA Success Story: Benefits Advocacy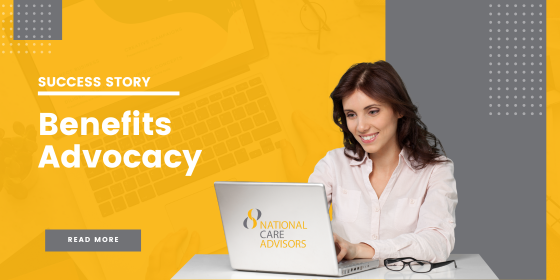 The Johnson Family contacted National Care Advisors after the Social Security Administration concluded that their daughter, Emily, age 23, no longer met Supplemental Security Income (SSI) eligibility requirements after years of receiving benefits. In this success story, we will share how NCA was able to advocate for the family in response to this news.
Emily is diagnosed with Autism Spectrum Disorder, Attention-Deficit/Hyperactivity Disorder (ADHD) and Generalized Anxiety Disorder. She has been considered disabled since the age of 2. Emily has lived independently since age 21 in her own apartment with independent living support services. Her independence is dependent on benefits such as SSI, Medicaid, Developmental Disability services and a Section 8 apartment voucher.
Emily received notice for a routine SSI re-assessment interview, in which it was shared that she had recently completed certification to become a hairdresser. However, information was not communicated that this was only possible through significant independent living and vocational support services. The Social Security Administration found her employable, although she has never demonstrated any ability to sustain employment independently due to her functional challenges. The Social Security Administration also reviewed submitted bank statements and determined that she had financial resources exceeding SSSI benefits eligibility.
Emily's SSI benefits were suspended as a result. These benefits are critical to her ability to live independently.
Like many parents/guardians, the Johnson's first thought was to retain a lawyer and to appeal the Social Security decision. However, NCA recommended requesting a reconsideration with the submission of additional documentation to support both disability and financial eligibility as a more cost-efficient, timely action to resolve this problem. The Johnsons agreed, and NCA developed a two-prong approach to restoring Emily's benefits.
First, the Nurse Case Manager assigned to the family gathered objective documentation from Emily's physicians, current treating behavioral psychologist, independent living support service, and past neuropsychological evaluations that established she was still disabled and supported her current functional capability. These deficits were proven to adversely affect her in all areas, including social interactions, the inability to live independently without independent living support (ILS) in place, vocational performance and the capability of achieving gainful employment without significant vocational and job support services. Submitting information from these resources showed clear evidence of her disability.
Once Emily's disability and functional capacity were documented, NCA needed to demonstrate that she had no countable resources for the purposes of SSI eligibility. Copies of Emily's bank statements, ABLE account and Pooled Special Needs trust document were submitted to the Social Security Administration. Additionally, a letter summarizing details regarding her Pooled Special Needs Trust account and the resources reflected on the trust bank statement should not disqualify her from SSI eligibility. With the combined detailed medical and financial information, NCA submitted an objective, well-supported request for review from the Social Security Administration.
Within two months, the SSA notified the Johnson family that Emily's SSI was reinstated with back pay and full benefits on a go-forward basis.
Our case managers effectively provided sound, comprehensive advocacy for Emily. Through continuous communication with her family, care team and financial institutions, we submitted a well-supported, strong request to the SSA promptly and efficiently, resulting in a successful outcome. If your client or loved one has found themselves in a situation where their existing benefits have been denied, contact National Care Advisors today to see how we can help. You can email us at info@nationalcareadvisors.com or call us at 1-800-652-7404.