NCA Success Story: Advocating Through Education Transitions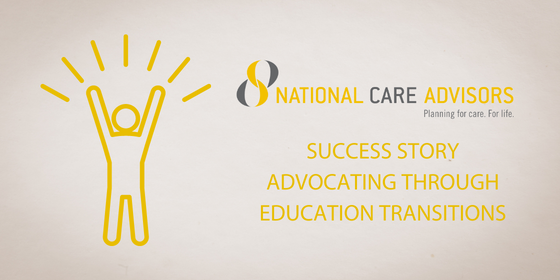 Did you know that in addition to our Nurse Case Managers, National Care Advisors also has Education Consultants to assist with your client or loved one's educational needs? At National Care Advisors, we help families develop comprehensive, customized education plans for their children to best meet their vision of quality education while navigating the system. We work with parents, private and public school systems and education interventionists to create and implement measurable plans that are unique to the child's individual ability level. To get an idea of how our education consultants can assist your client or loved one, let us introduce you to the Jones Family and their daughter, Emily.
Emily has been diagnosed with multiple disabilities and was preparing to transition from preschool to kindergarten programming. National Care Advisors was hired to update existing education evaluations, identify appropriate school placement and assist in developing an individualized education program (IEP) with all necessary services. Soon after engaging with the family, COVID-19 shutdowns began. This left Emily stuck at home with no path forward towards the transition to kindergarten. Even worse, the preschool services Emily was in had stopped, and the local school system was not prepared for her to enroll.
To maximize resources and find optimal care, the family decided to relocate to a new city within the state. Once settled, our education consultant collaborated with the family to prepare Emily for success. They were able to locate and prepare prior education records from Emily's time in preschool, enroll her in the new school district and expedite education evaluations. This allowed the family and district to identify the appropriate placement for Emily, eliminating any further delay in education and other necessary therapies.
Only having utilized Medicaid nursing services previously, the education consultant was able to coordinate with the district to provide 1:1 nursing services throughout the school day including transportation at the beginning and end of the day. Collaborating with our in-house nurse consultants, the family was able to coordinate home nursing services providing a seamless transition from home to school and back again.
Building trust has been the cornerstone of this success story. Our education consultant met the Jones family where they were and worked in a way that made them feel comfortable and heard. As an advocate, they knew that Emily's optimal quality of life and education was a top priority. At the same time, it was important to strengthen the relationship between the family and the school district to support Emily's long-term education goals.
Emily is now enrolled in school full-time and thriving. She continues to use district-provided transportation that is staffed by professional caregivers, has a 1:1 district-funded nurse and is continuing to demonstrate consistent and rapid progress.
The education system can be complex and challenging in the simplest of circumstances. At National Care Advisors we stand ready to be strong, persistent advocates for families of children with complex medical care needs and look forward to being a valued partner in their child's education. Every child is unique, with vastly different abilities, interests and potential. If you have a child with complex medical care needs that could use the services of our education consultants, contact us today at info@nationalcareadvisors.com or 1-800-652-7404.