Navigating Air Travel with Complex Care Needs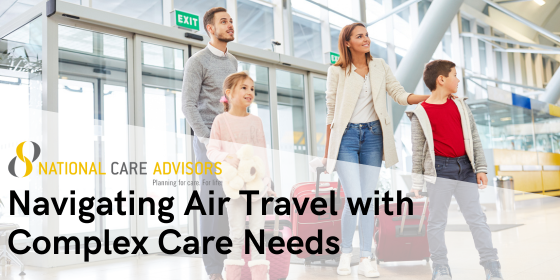 Air travel has opened a world of possibilities, enabling people to reach destinations quickly and conveniently. However, for individuals with disabilities, navigating the complexities of air travel can present unique challenges. The U.S. Department of Transportation data shows that airlines mishandled 11,389 wheelchairs and mobility aids in 2022 alone.
Lawmakers are working on legislation to make flying more manageable and more accessible. The MOBILE Act, or Mobility Aids on Board Improve Lives and Empower All, calls for the Department of Transportation to "research the technical and financial feasibility of allowing individuals to remain in their wheelchairs during flights" (Disability Scoop, May 2023). Additionally, the Secretary of Transportation is under pressure to increase enforcement of the Air Carrier Access Act. This federal law protects the rights of people with disabilities when they fly.
Delta Airlines has already answered this call and has unveiled a first-of-its-kind seat allowing passengers to remain in their wheelchairs on airplane flights. "This product remains in its early development stages, with approximately 18 months of work and reviews ahead, but Delta will keep a keen eye on the progress of this concept" said Emma Johnson, a spokesperson for Delta Air Lines.
While we wait for lawmakers and airlines to pass and implement these initiatives, here are a few tips for planning your upcoming travel.
Know Your Rights and Regulations:
Understanding your rights and the regulations in place for air travel is crucial. Familiarize yourself with the Air Carrier Access Act (ACAA). These regulations protect the rights of individuals with disabilities and outline airlines' responsibilities in providing accessibility accommodations. Knowing your rights will empower you to advocate for yourself and ensure a smoother travel experience.
Contact the Airline in Advance:
Before your flight, you should contact the airline directly to inform them of your disability-related needs. Services such as TSA Cares can help and make necessary arrangements, such as wheelchair assistance, pre-boarding, or allocating seating that accommodates your requirements. Communicating your needs in advance will help ensure a more comfortable and seamless travel experience.
Plan for Accessibility at the Airport:
Airports worldwide are making efforts to improve accessibility for travelers with disabilities. Many airports offer specialized services, such as accessible parking, wheelchair assistance, accessible restrooms, and designated waiting areas. Check the airport's website or contact them directly for available facilities and services. Arriving early at the airport will provide ample time for navigating security procedures and any additional assistance you may require.
Mobility Aids and Assistive Devices:
If you use mobility aids or assistive devices, it is crucial to be familiar with airline policies regarding their transportation. Ensure your equipment meets the airline's guidelines and check for specific requirements, such as battery removal or storage. Labeling your equipment and carrying any necessary documentation, such as a doctor's note or manufacturer's instructions, is recommended to facilitate a smoother security screening process.
Even though challenging, everyone is entitled to travel safely and accessibly. If you, your client or your loved one have questions or concerns on how to do so, the team at National Care Advisors is here to help. Contact us today to have one of our Nurse Consultants meet with you to review your situation and create a plan to get you to where you want to go. You can reach us online or at info@nationalcareadvisors.com.