NCA Success Story: Establishing Trust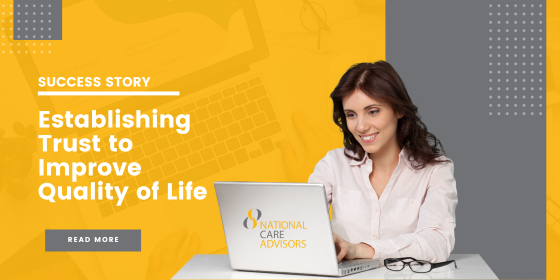 Michelle was referred to National Care Advisors by a trustee. Her Parkinson's diagnosis had left her with limited and worsening mobility. Additionally, her trust and savings account were rapidly depleting, causing concern. The trust asked us to complete a Special Needs Assessment to meet Michelle and see how they could improve her quality of life.
When our case manager met Michelle, they discovered that Michelle's adult son was receiving over $5,000 a month from her and storing all his belongings in her apartment. His clothes and belongings cluttered the living room, breakfast room, hallway and kitchen. The only clearing in the entire space was a roughly 18'' path from the front door to Michelle's bedroom. Michelle would often fall due to the limited space. Later, we found drugs, guns, and stolen items, including Michelle's jewelry, in the piles. The kitchen was inoperable except for the refrigerator and countertop microwave. When questioned about her son and his activities, Michelle didn't know where or what he did. However, she was afraid to stop giving him the money as he had become violent when she attempted to in the past.
Michelle had become trapped in her own home. Her few friends couldn't come over due to the mess, and she could not get out much due to her mobility issues. Her medication was disorganized, preventing her from consistently taking medication as prescribed. She even wore the same old clothes and cut her own hair.
We knew that for Michelle's quality of life to improve, we needed to move her into a new home that was safe and secure and provided the necessary physical, social and emotional health support. When discussing this with her, Michelle shared that she did not have any other family or trusted loved ones who could serve as her Power of Attorney/Executor, and to make matters worse, she had just signed a new lease for her apartment. Our case manager asked Michelle to trust them, and they would work on a plan. Meanwhile, Michelle was supposed to think about anyone who could help her besides her son.
Within a few days, our case manager had researched and identified a few assisted and independent living facilities in Michelle's area. When they shared this information, Michelle shared that she had reconnected with her brother and sister-in-law and would like to explore facilities closer to them, in the same state but a few hours away. Within the week, they had identified a new home and prepared to relocate Michelle.
All of Michelle's son's items were boxed up and moved into a storage unit, where Michelle paid the first month and then left the responsibility to him. When he figured out what was happening, he was outraged. The case manager covered Michelle's tracks well and even forwarded her mail to a third-party location.
Michelle is thriving in her new assisted living facility. She now attends morning bible study, participates in activities and outings with the other residents, and is reconnecting with her brother and sister-in-law. She is now seeing a doctor certified in treating Parkinson's patients, has all of her medication organized and is awaiting a Medication Management Dispenser. Her facility provides the necessary physical, occupational and speech therapy.
The move has been financially beneficial as well. Prior NCA's hiring, Michelle was in a deficit of nearly $5,000 a month. She now has a $ 1,000-a-month surplus, representing a net $6000 decrease in her monthly budget. She still gives money to her adult son, but instead of $5,000, she chose $250 a month. She even gets her hair done monthly now.
Thanks to the trust built between Michelle and our nurse case manager, we dramatically improved Michelle's quality of life in just a few short weeks, while also saving her almost $72,000 per year. These savings represent an over 6x return on investment from the fees paid for case management services in the first year alone!
If your client or loved one could benefit from an assessment and case management services, please contact us at info@nationalcareadvisors.com or 1-800-652-7404.