Coast-to-Coast Collaboration to Improve Quality of Life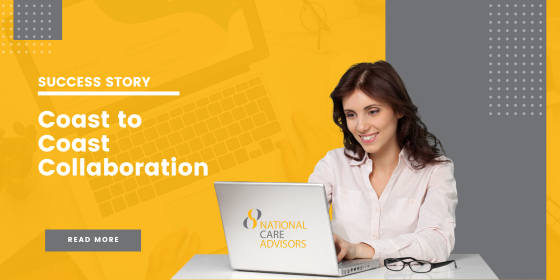 The Jones family faced a life-altering event when Sally experienced severe complications following emergency surgery. The aftermath of the surgery left her with permanent neurological and cardiac damage, rendering her immobile, bedbound, and completely dependent on caregivers for day-to-day activities.
When National Care Advisors was contacted, Sally was in a skilled nursing facility in Southern Florida, where she was stabilized after years of hospital and rehabilitation facility visits. As her health continued fluctuating, the family's goal was to move to the West Coast to be closer to their extended family and provide her with the best care possible. However, the cross-country move was riddled with challenges and obstacles that required expert assistance. Handling such a complex case needed the expertise of two bi-coastal case managers.
The first step was to devise a comprehensive transfer plan, considering the numerous challenges of moving a medically fragile individual across the country. Our team worked closely with Sally's family, considering her unique care needs, in-home nursing requirements, outpatient provider team, durable medical equipment, and transportation accommodations. The case managers successfully overcame objections and communication issues with the Florida facility during this process and obtained the necessary medical approvals. Their primary goal was to fulfill the family's relocation request while minimizing the client's risk of further physical and emotional deterioration.
While the east coast case manager worked with the current facility and family, the west coast case manager was able to research and review facilities that could adequately meet Sally's complex medical needs and cater to her family's preferences. This involved coordinating with various facilities, reviewing medical records, and providing detailed patient information to find the perfect match.
With a facility that met the family's approval and a formal physician-to-physician report completed, Sally was set to relocate. Transporting a medically fragile patient across the country required meticulous planning and coordination. The case managers obtained air transportation quotes from reputable companies, ensuring that all flying criteria were met for Sally's safe travel. Collaboration with the air transportation team and the receiving facility contributed to a seamless transition. The transport was conducted without issue, and Sally was greeted by family and escorted to their new facility.
Even after Sally's successful relocation, NCA continues to provide support, advocacy, and assistance. We are working closely with the staff in her new facility and her family to ensure her optimal quality of life. Our case manager is currently assisting with third-party benefit applications and care planning regarding her future discharge to their private residence.
Sally's success story is a testament to the power of compassionate care and the persistent dedication of our nurse case managers. Despite facing numerous challenges, the collective efforts of Sally's family and the NCA team ensured a smooth and safe cross-country move, ultimately providing her with a better quality of life. Our nurse case managers are ready to assist if you have a complex care need for your loved one or client. Contact us today to discuss your unique situation and how we can help.