Celebrating 15 Years: A Message from our Founder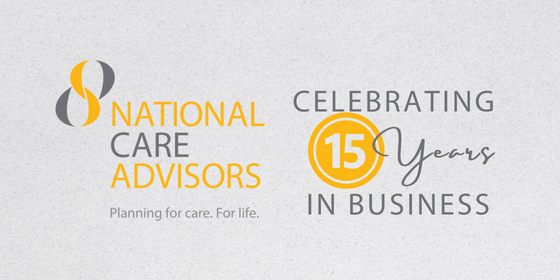 Fifteen years ago, National Care Advisors began with an aspiration to develop a national company that provided a tangible service to improve the lives of clients with care and quality of life challenges, regardless of age or medical diagnosis.
To do this, our company had to allow for professional practice at the highest quality level, with the freedom to do the best possible work, and in collaboration with other quality professionals. While doing so, our employees and their families had to be supported so they could thrive, in turn providing the optimum professional energy to give to our clients and our company.
It is with great gratitude, that the founding vision for National Care Advisors has been realized as a very successful company because of our professional team and the wonderful referring trustees, fiduciaries, lawyers, and financial planners that share our dedication to clients and families faced with challenging care and quality of life considerations.
As we celebrate our past and plan for the future it is important to recognize what has brought us here and will take us swiftly forward into the future.
A continued focus on providing achievable, sustainable care and the best quality of life solutions for our clients. By continuing to consult with and advocate not only the individual but their family support system as well, we will continue to maintain a highly professional yet personable approach with our clients.




Attention to growth without compromising quality. Our executive team and I are laser-focused on our company's national growth. At the same time, we are internally growing support systems and protocols such as our new Director of Training and Quality Assurance position.


A commitment to our people. Our success has been realized because of our incredible team of dedicated professionals working successfully together. As our company has grown, so have the individuals who make it. Recognizing professional victories, promoting within and creating paths for advancement will be the cornerstone of growing and developing the next generation of leadership at National Care Advisors.
The future of National Care Advisors is bright. We stand ready to make a difference in the lives of our clients and their families. May the next fifteen years bring as much impact and success as the first.
Gratefully,
Ann